Via
St. Louis University Under Fire for Work with Doctor Who Infected AIDS Patients with Malaria
by staff reporter Sam Levin of The Riverfront Times, published a couple days ago:
With the support of a National Institutes of Health grant, Saint Louis University is partnering with a controversial Chinese doctor who once infected AIDS patients with malaria as part of a widely criticized practice.

The doctor in question is Xiaoping Chen of China's Guangzhou Institutes of Biomedicine and Health (GIBH), which is partnering with the Center for World Health and Medicine at Saint Louis University to develop treatments for malaria. This collaboration is now facing scrutiny after Peter Heimlich -- son of the man behind the "Heimlich maneuver" -- began raising questions about Chen's past.

...With specific citations, (Peter) Heimlich writes in an e-mail to Daily RFT:
The "malariotherapy" experiments in China, conducted for over a decade by Dr. Chen in conjunction with Cincinnati's Heimlich Institute, have been called "atrocities" by the World Health Organization. Medical experts have condemned the work as "charlatanism of the highest order." Research subjects included prisoners who were controlled by hired guards. In one case, a woman with full-blown AIDS, suffering from pneumonia and hooked up to oxygen, was infected with malaria.
...(A spokeswoman added), "Saint Louis University has no connection to the malaria and AIDS research conducted in the 1990s in question. Further we have looked into issues raised about Dr. Chen's previous research and have confirmed that this research was done in accordance with the regulatory authority of China at that time."
I bolded that last sentence because upon it hangs the university's credibility -- and maybe more.
I wanted to ask a SLU media representative to provide me with the name and job title of the Chinese government official who provided the university with that information.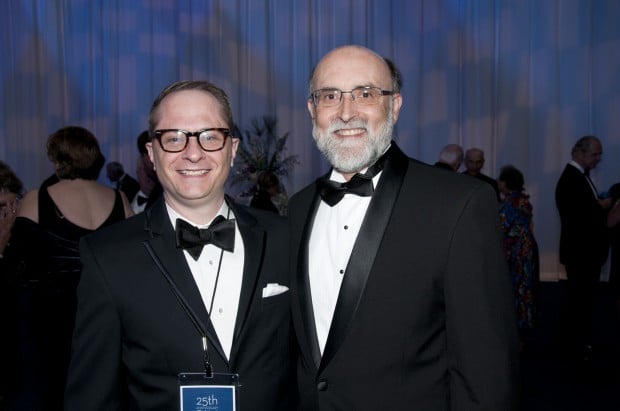 Clayton Berry, Donald Linhorst (source)
But there's a little problem -- this e-mail I received the day after
the SLU/Chen partnership story was broken by Associated Press reporter Alan Scher Zagier
:
So yesterday I took it to the university's Board of Trustees.