Ever heard of "ozone therapy"?
One of a number of unproven "therapies" offered at expensive cross-border clinics, ozone therapy involves infusing the blood, body cavities or drinking water with triatomic oxygen, in order to kill "HIV and cancer virons [and] arthritis microbes" [sic] while enriching the blood, according to one Web site. The Environmental Protection Agency considers ground-level ozone to be a pollutant that causes significant health risks.
For more contrasting opinions,
click here
for a keyword search of "ozone" on the website of the American College for Advancement in Medicine ("The Voice of Integrative Medicine").
Click here
for the same search on Quackwatch.com ("Your Guide to Quackery, Health Fraud, and Intelligent Decisions").
According to the interview, the project was prematurely terminated by the Minister of Health, but not before he treated the country's president,
Ernest Bai Koroma.
Cynthia Oremi Jarrett-Thorpe and President Ernest Bai Koroma (source)
Was President Koroma ill? I've asked for a statement from
Cynthia Oremi Jarrett-Thorpe of Sierra Leone's consulate in Atlanta
(near where I live). She e-mailed me that she's working on my request.
Here's the NewsMax interview from which I transcribed and time-stamped some highlights.
(:55) Robins: We got (to Sierra Leone) late at night, saw that all our cargo had come in with us with all our medical supplies and equipment. The next morning we went right over and trained about eighty to a hundred doctors and nurses who were gonna be on the front lines fighting this. Over the next three days we trained individual groups of these doctors to make sure they knew how to do this intravenous therapy well and we wound up with a handful who we thought were the best.
Howard F. Robins DPM and Robert J. Rowen MD, apparently in Sierra Leone (source)
(1:50) I went with Dr. Robert Rowen from Santa Rosa. California, and he also has been training doctors in ozone therapy, so the two of us were able to do this in a rather intense way.
(2:15) The older what they call senior doctors there were very skeptical, so it took us about, just a few hours to win them over with the science of it and then when we went into the clinic and started doing it on them and treating them and having them treat each other, that was the finishing touch. They were just ready to go.
Doyle: And you actually treated some of the highest members of the government of Sierra Leone.
Howard F. Robins and Robert Rowen MD with photo of Presidents Obama and Koroma (source)
Robins: Well, you can't get higher than President Koroma. And after meeting with him, he invited us back to his home that evening and this is isn't just like a home, this is like getting into the White House. And we went back to his home, spent an hour and a half, and I personally got to treat President Koroma who actually trusted me to do this on him without any security around him and he saw the ease of it, the safety of it and immediately wanted us to get into the clinics to do this.
Doyle: And yet you did not get into the clinics to do it.
Robins: Well, this was an interesting and very unfortunate situation that happened. I left a week ago Wednesday night at midnight [presumably October 22] to come home. Dr. Rowen stayed two more days. We were finally getting in that Thursday morning. After meeting with the major who at this clinic there called Hastings, which is in Freetown, the capital of Sierra Leone, the major and all the healthcare workers were fighting over who's gonna get the therapy first so they would strengthen themselves against getting the virus themselves and a call comes through from the deputy assistant to the minister of health. And he says if they do this therapy on anyone there including the healthcare workers they're gonna lose their jobs. A few minutes later the minister of health calls and confirms this. So it never happened that day at the clinic.
(4:20) Robins: We met with (Palo Conteh, Sierra Leone's new ebola czar). His only question was, why aren't we in there now doing it? The president wanted us in there doing it....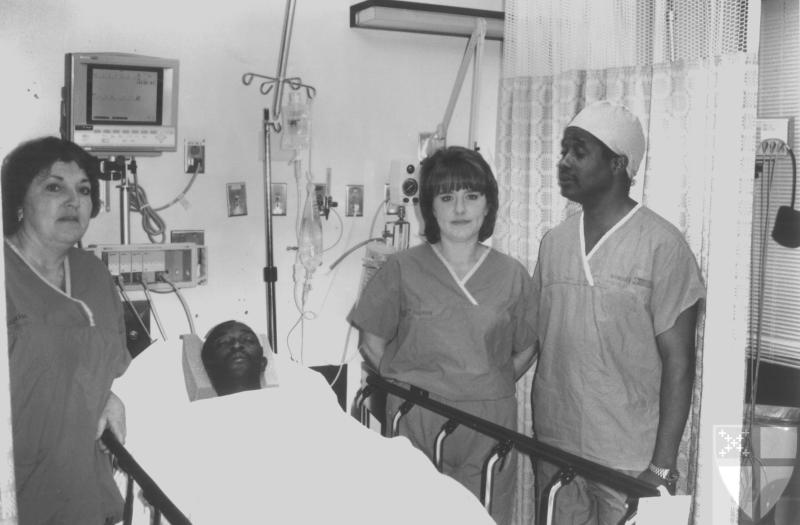 On the right, Kojo Carew MD (source)
(5:25) Robins: The latest that just came in around this is that the doctor we were working with, Dr. Kojo Carew, refused to treat any of the ministers and their families who were now clamoring for the therapy. He was going to Liberia 'cause he knows the president of Liberia, to threat the people there.
Robins: Well, what happened was, we get an e-mail from Monty Jones, the special adviser to the President Koroma, saying we'd like to renegotiate you coming back to Sierra Leone and doing the therapy in the clinics and that's the position we're in right now, so we think it may still survive and it may actually happen.
But wait, there's more.
What about the quarantining of members of the ozone treatment project when they returned to the U.S.?
If another reporter doesn't beat me to it, I'll blog a follow-up item about that.